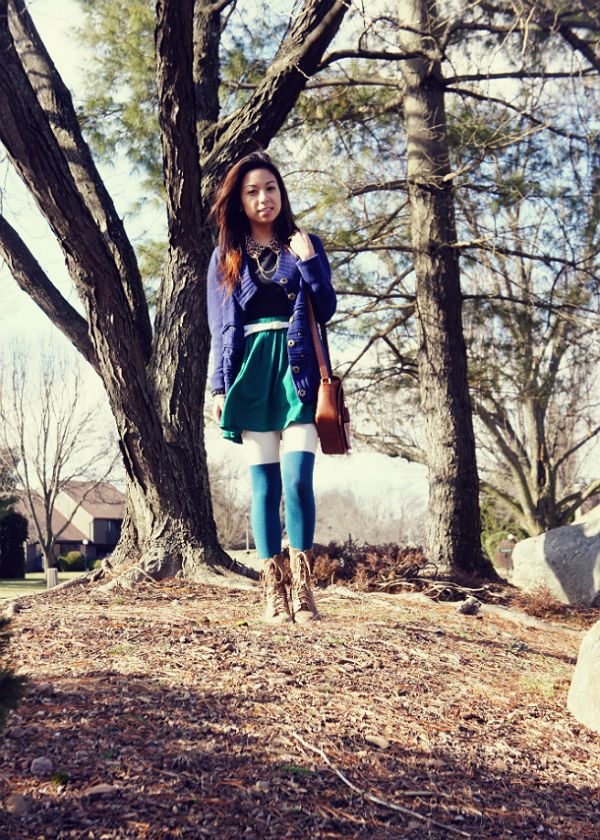 CARDIGAN, TOP, & SKIRT FROM URBAN OUTFITTERS, COLLAR CLIPS FROM EBAY, TWO-TONE TIGHTS C/O NYLON JOURNAL, BOOTS FROM MADDEN GIRL (MACYS)
Photography by Dillon
The weather just keeps getting colder and colder so I have been keeping the layers on. Don't you love these collar clips? Also, these two-tone tights from Nylon Journal look pretty cool and are thick enough to keep me warm. Check out their site! They have really awesome leg wear designs. Some of my favorites are featured on the front page!
I still can't believe I am done with school (for now)! I have so many things I want to do with this time off. Currently I am taking an online course to finish a prerequisite, working, continuing my research at the lab, working on the blog, creating a graphics website (so excited to be designing again!), organizing my closet (be on the look as because I will be selling clothes. Would you buy?), and making plans to do zumba (...on the wii).
I am trying to do all this as I wait to hear back from graduate schools. I feel like I should be doing more. I know winter break in the US is ending, how are you all spending your time right now? Hope you all are having a great weekend!
Like my posts? Please like on TeenVogue, Lucky or Bloglovin'. Thank you so much!