The 2012 Olympic Games  have been EPIC! We've seen history being made from Michael Phelps  becoming the most decorated Olympian in history to the women's gymnastics team taking home the gold after 16 long years.
However, I must admit the story of Gabby Douglas  has really been close to my heart and to anyone who has followed her rise to greatness.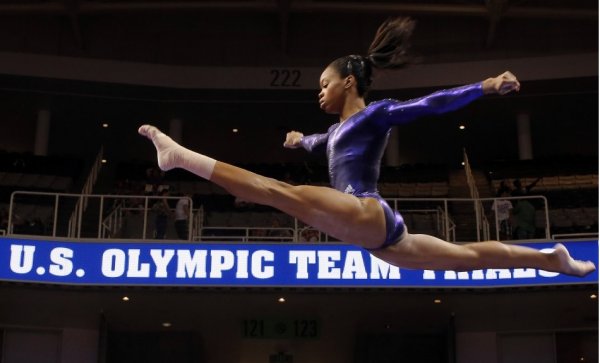 She is a great role model for young girls, especially young girls of color. She proves that with discipline, determination, and a great spirit you can achieve anything. It's sad to say we don't have many role models like Gabby Douglas for little girls to look up to. It's also sad to say that we don't have many young women Douglas' age receiving such an outpour of positive attention. So imagine my dismay when I saw negative comments about Gabby's hair on Twitter and Facebook, while she was out winning the gold. 
Comments erupted all over Twitter with viewers criticizing the 16-year-old's hair. 
"What's up with that gel Gabby?"
"Why is her hair so nappy?"
"Someone went to London and forgot to pack her relaxer?"
"Everyone else's hair is done, why isn't Gabby's?"
Hair has always been a touchy subject in the African-American community. The European standard of beauty has been reiterated over and over again that hair that hangs long and silky is beautiful. What makes this even more disheartening is that several of Gabby's critics were members from the Black community.
While Gabby took the high road and shook the haters off, I know she had to be hurt by the comments. Instead of supporting Gabby and sending positive energy her way, people were tearing her down about something insignificant. Aside from being upset about the ignorance of their comments, I was also confused.
When participating in a sport, especially as demanding as gymnastics, does it seem logical to expect perfect hair with not one strand out of place? If so then every woman climbing the elliptical (trying to get Gabby's perfectly toned legs and glutes of steel) needs to step their hair game up while in the gym. Seems like a little too much to ask for, right? 

The frizziness of Gabby's edges in my opinion is as beautiful as the gold medal she dons around her neck. It's a sign that little mama put in work  to represent the USA in a major way. 
How do you feel about this situation? Do the haters need pipe down? Let us know in the comments!
Photo credit: MSN.com