Happy Monday!  I hope everyone had a great weekend.  I spent my weekend relaxing and recovering from my cold.  Unfortunately, I missed out on attending Fro Fashion Week, but a weekend of nothingness was what the doctor ordered.  I think I've just been running too hard, and my body basically said, if you won't give me a break…I'll take one! BOOM! Nasty cold. The funny thing is Fab had the same cold (he gave it to me!), and he wasn't nearly as sick as I was.  Clearly my immune system was not up to par.  Lol.  I'm still not 100% better, but I'm functional and ready to get back to business.
Anyway, this is not going to be an entire post about my cold. Lol! This is a fashion blog, right? Once again, I'm teaming up with the folks at Glam, and this time we are talking about finding inspiration in a place you may not expect – the 2013 Chevy Malibu!  Mmm hmm, that's right.  As some of you may already know, designer Isaac Mizrahi has teamed up with Chevrolet to design an entire collection inspired by the Malibu. I think the collaboration is pretty awesome! I really enjoy hearing designers share where they find inspiration because they really do find it everywhere.  It goes way beyond the obvious, tangible sources of inspiration that you can touch and feel…it's the emotional reaction it causes, or the memory it conjures, or just the feeling it evokes.   And, what was it about the Chevy Maliby that inspired Isaac Mizrahi? Well, I think he can tell you better than I can. Lol.
So, what was my challenge? Well, to create a post about the features of the Chevy Malibu that most inspired me.  I headed on over to the website to learn more about the car, and I immediately fell in love with the Jet black/Browstone interior with contrast piping.
There's just something about the combination of the plush black and deep brown leather that felt sophisticated and cozy to me…kinda like an old study!  I picture a worn in leather chair, a soft cozy blanket and a good book…and a hot toddy! Mmmm.  So, I decided to use that shot as my inspiration for today's outfit.
The second part of the challenge was to create a Pinterest board of images that spoke to how the Chevy Malibu inspired me.  For me, this meant finding images that reflected things like timeless style, investment pieces,  making a statement, clean lines and stylish details…and effortless cool, of course!  These are all the things that come to mind when I see the Chevy Malibu.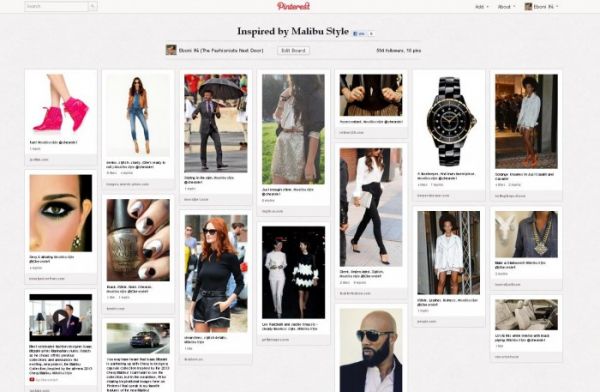 So, I can't wait to see Isaac Mizrahi's finished collection, and hear all about his creative process and what features of the Chevy Malibu inspired him.  I'm sure it's going to be stunning!
 Smart technology, impressive styling, a luxurious interior and confident handling all come together in the all-new 2013 @Chevrolet #Malibu to take your drive to the next level. Discover  #MalibuStyle
Thanks for stopping by, and have a GREAT week! XOXO.
Disclosure: Compensation was provided by Chevy Malibu via Glam Media.  The opinions expressed herein are those of the author and are not indicative of the opinions or positions of Chevy Malibu