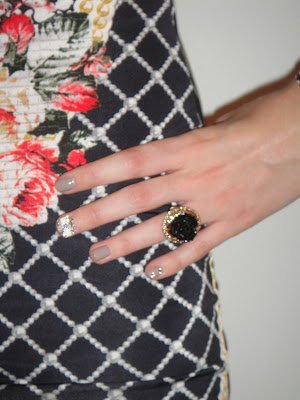 I've said it before and we all know I'll rarely buy anything but an original but for this dress from Topshop, I could make an exception. Since my love for Balmain is over the top (and so are the prices of anything I could ever dream of owning), this screen-print dress provided me with a bang-on alternative to the embroidery and patterns I covet so dearly.

Dress, Topshop; Clutch, Topshop; Heels, BCBG; Necklace, Forever 21; Black and Gold Flower Ring,
Forever 21; Silver Ring, Tiffany and Co.

Nail Colour - Nails Inc. in Porchester Square and Electric Avenue