Originally posted here: 
http://southernbelle23.blogspot.com/2011/07/anthropologie-inspired-headband.html
A couple of months ago, I signed up for pinterest. At first, I was under the impression, it was like another We Heart It site. I was disappointed, because I then realized that it was nothing alike. Over the past month or so, I have gave it a second chance. I have been "pinning" and finding inspiration, fashion, nail idea, hair ideas, crafts, and so on and so on. I have so many projects lined up and have made countless trips to Hobby Lobby. It's addicting.
The first DIY Tutorial that I bring to you is...
Antropologie Inspired Headband
-Headband ($1.99)
-Felt (0.25 cents)
-Pearls ($1.99 each)*
-Hot glue gun
-Scissors
*I couldn't find a bag of pearls, so I bought pearls that were already on a string (pictured above). If you buy a bag of pearls, you will need to buy string.
This is what the string of pearls that I bought looks like out of the package. Since there is a lot of excess string. I cut it, so I could tie a knot on each side. See picture below.
After you have your pearls on a string, begin gluing it onto the felt. When gluing it onto the felt, wrap it like it is a bullseye.
After you are finished, it should look like this. See below picture.
You will need to do this three times. After you are finished, cut it out of the felt.
This is what you should end up with after you've completed the previous step. Now, you're ready to glue them onto your headband. After you're finished, it will look like this: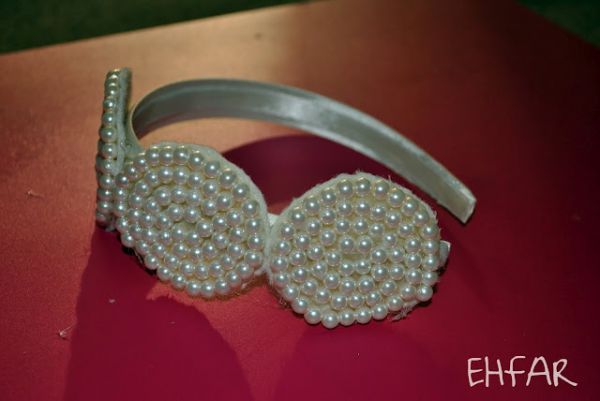 Now, you are ready to wear it!
Excuse the messy hair and hubby's dirty undershirt! It's been sooooo humid outside. I had to be comfortable!
Voila!