I love finding fashion gems in unsuspecting places! It's like an Easter Egg hunt only for grown-ups and the finds aren't smelly dyed hard-boiled eggs. Though I live in one of the shopping capitals of the world with tons of great stores and street vendors available at my disposal, many of the places where I get my most prized fashion finds are accessible to just about anyone with an internet connection. And a lot of them aren't the first places one might check for cool clothes. Check 'em out…
1. The men's section. This is one of my most FAVORITE places to find clothes. When I decided I wanted a pair of cargo camo shorts, I hit the men's section at Old Navy and found the perfect pair. I teamed them up with Christian Louboutin Unbout slingbacks, a tank dress from H&M (worn as a tunic) and my favorite ASOS blazer.
The men's section is also great for finding cool coats, blazers, and actual boyfriend-fitting boyfriend jeans. I tend to frequent H&M, Zara, and Old Navy most often to see what I can borrow from the boys and make my own, but recently at a shoot for JCPenney Buffalo iJeans, I came across this bomber jacket from their men's collection:
I even tweeted about it and guess what? 
Nina Garcia
 retweeted me adding #trendalert to it!
So of course I had to get it (for reference I'm wearing a men's medium and typically would wear a women's 10 or 12 in jackets). Blame the dirty mirror on the store's dressing room.
If you're more on the petite side, hit the boys' section.
2. 
Victoria's Secret
. While buying clothing from the lingerie giant's website can be hit or miss (and many times a miss because the clothing can sometimes feel like loose-leaf paper), once in a while you can find a diamond in the rough which for me came in the form of skinny camo print cargo pants (that people are constantly asking me about, btw) and my old faithful spiked combat boots.
3. 
Luxury department store sales
. Though my freelancer salary typically dictates that I should be shopping for clothes at the $10 store, I do like to mix in designer pieces with stuff I find at places like H&M, ASOS, and the men's section…lol. But I'd be a liar if I sat here and told you I'm wearing $600 and up shoes and bags all the time (just the CL Unbouts so far), but a pair of 
Alexander Wang
 gladiator sandals or a pair of 
Nicholas Kirkwood
 pumps that were under $200 each? ALL me. Stores like 
Bergdorf Goodman
, 
Neiman Marcus
, or
Saks
 can be intimidating because they can pull quite the sticker shock, but when they have sales, they have SALES. Sometimes you have to shop off-season, but if you get something classic, you'll have a great find that you can work for season after season.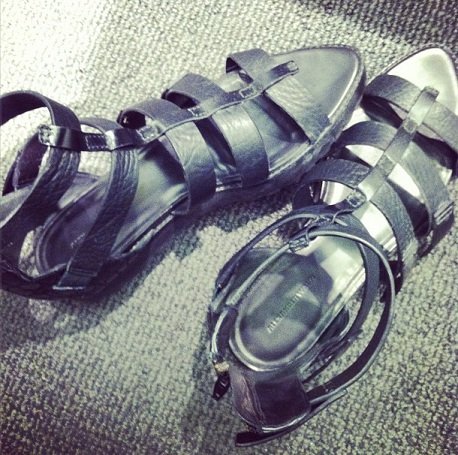 I also LOVE theoutnet.com for designer deals. Especially during their anniversary sale. Last year I got a Valentino skirt for $2!
4. eBay. Sure shuffling through stranger's unwanted stuff is not exactly something you'd see say Anna Wintour doing, but any time I want something that isn't found in stores or is too expensive, I hit eBay. The website has been really pushing its eBay Fashion feature the last few years, but I would find vintage YSL blazers and secondhand (authentic) Gucci bags waaay back during its beginnings.
What are some of your "secret" places to shop for fashion? Sharing is caring—tell me in the comments!